Welcome to Eco Team 
Please speak to Mrs. Ehlen or Mrs. Buck if you'd like to join the team.
Every child in Key Stage 2 has the opportunity to become members of our Eco Team.
We meet every Tuesday in Nursery
3.15pm – 4.30pm.
Here are the members of the 2017-2018 Eco Team!
The Big Schools' Birdwatch
The Members of the Eco-Team carried out the 2018 survey after school today. It was bitterly cold standing in the bird hide for an hour so they thoroughly deserved the hot chocolate and biscuits. We counted 19 birds during the hour; our favourites were the long-tailed tits.
Welcome back to Eco Club
First meeting back after the Christmas holidays and the Eco Team needed to check and weed the winter vegetables that are growing in our quad. The vegetables are doing really well as it's sheltered from the weather and there doesn't seem to be as many slugs here!
We also planted bulbs in the hope of a pretty spring display. Keep your fingers crossed. The photos show you how bitterly cold it was after school but we persevered until all of the bulbs were in.
Honey-glazed beetroot. Yum!
The beetroot that we harvested earlier this term was delicious. It was roasted and glazed with honey. We just need to plant another crop now.
Harvest Time
Our first job of the year is to harvest the produce that has been growing over the summer months so that the allotments can be weeded and prepared for the planting of the winter vegetables.
From our photos you can see that the onions, lettuce, beetroot and courgettes have grown really well - we're really pleased!
Eco Team 2016-2017
Have a look at Eco Team's history...
Pond Performance
We've been keeping a close eye on the creatures in the pond and have noticed that the tadpoles are beginning to change into frogs. This week in Eco-Club we built the frogs and newts a platform so that they can sit out of the water.
Frogs and newts belong to a group of animals called amphibians which means 'two-lives'. They begin their lives in the water as eggs and then tadpoles and efts (a young newt);  when they are fully developed they live on land. We thought we would build a platform so that the frogs and newts can get out of the water at this stage of their lives. 
Frogs and newts are cold-blooded which means that their bodies are the same temperature as the air or water around them.  When they are cold they will lie in the sun to warm up and when they get too warm they will go into the water to cool their bodies off. This is another good reason for us to build a platform in the pond. We hope they enjoy it!
Hard Work Weeding
The fruit and vegetable plug plants from Rocket Schools are growing really well due to the excellent weather conditions we have had recently. We have to spend lots of our Eco-time weeding the beds so that the plants can grow healthily.
Insect Heaven
The wildflower meadow is looking beautiful at the moment. It is attracting lots of different insects. We saw lots of damselflies hovering amongst the  grasses and flowers.
The poppies are adding lots of colour to the allotments. Some of them are like works-of-art.
Thursday 18th May
We celebrated Outdoor Classroom Day. The whole school spent the day outdoors doing many different activities. Thankfully, it was a gorgeous day.
Bug Manor
Welcome to the newly refurbished Bug Manor. Bookings now being taken! Well done, Eco Team. You really worked hard to get this done.
Thank you, Rocket Schools!
The Rocket Schools vegetable pack has arrived and we have had great fun planting all of the different varieties of vegetables. We can't wait to watch them grow.
Is it a frog or is it a toad?
We decided it was a toad because of its lumpy, bumpy skin! We used the Discover Wildlife  w
ebsite to help us decide. Click on the photo to visit the site and see if we were right.
Meadow Mania!
As promised, here's another photo of the meadow as we enter May. Can't wait to see it at the end of July!
Level Four!!!!
We are really excited about our prize for the Level Four RHS School Gardening Award...It's a Constant Garden from Rocket Gardens. Have a look at what we will be r
eceiving later in the term by clicking on the Rocket Garden's Logo. It will mean we will have lots more to grow and eat so we'll be asking Mrs. Anderson for her help again soon!
Forget-Me-Nots Forever
The Forget-Me-Nots are here! They are the most delicately, pretty blue flower that really does mean that Spring has sprung! Let's hope we don't get any more snow! 
Brilliant Blossom
After the lovely weather over the Easter break, the fruit trees have blossomed. It has really brought the school field to life. We should have apples, plums and pears this year.
Yes!!! We have Level Three
The RHS School Gardening scheme have awarded Millfield's Eco Team with its third certificate for their hard work growing edible produce. We received a fabulous box full of seeds that we will be planting to make our school environment even better than it already is. Thank you, RHS!
Teasing Teasel
Today we planted some young Teasel plants in our wildflower meadow as we know they are brilliant for attracting a whole team of different creatures. Ants, hoverflies, ladybirds, bumblebees and butterflies adore the thistle-like plants so they should make a great addition to our meadow. The teasel is a self-sowing plant so we're hoping that in a few years we will have a healthy number of them in our meadow. Click on the Gardeners' World logo to find out more about the teasel plant.
Level Two is reached
Millfield's Eco Team would like to announce they have been awarded their second RHS School Gardening certificate. We are really pleased with our bird feeding station and it helped us to win the Level Two Award. As a prize we received a gardening handbook full of lovely ideas and projects that we can work on.
Cute Cowslips!
As the weather warms up our meadow begins to bloom. The cowslips and red campion are some of the first wildflowers to appear. Don't they look pretty?
Congratulations Eco Team!
We have been awarded our RHS School Gardening Level One. We're really proud. The work that we did on our Bug Hotel has not gone unnoticed as the RHS have sent us this certificate and a wall planner to remind us of all the important jobs that need doing in the garden all year round.
Here comes Spring
The daffodils have appeared in the meadow. We know it won't be long before the wildflower meadow blooms.
Thank you Mrs. Anderson!
Look at the delicious rhubarb crumbles that Mrs. Anderson has made with the school rhubarb. They look perfect...especially with the viola garnish.
This week's meeting was very busy...
Eco Team plant their first batch of potatoes
Eco Team have planted their potatoes so that we can take part in Grow Your Own Potatoes project. For more information about this project, by AHDB Potatoes, click on their logo.
Pond Dipping
Eco Team have replaced the pond identification sheets so that any visitors to the pond know the name of all of the creatures. We have many different species in our pond including water snails, pond skaters and newts.
Rhubarb Crumble
It's only April and the rhubarb is growing really well. It's time to pick it and use it in a dish. "Mrs. Anderson!!"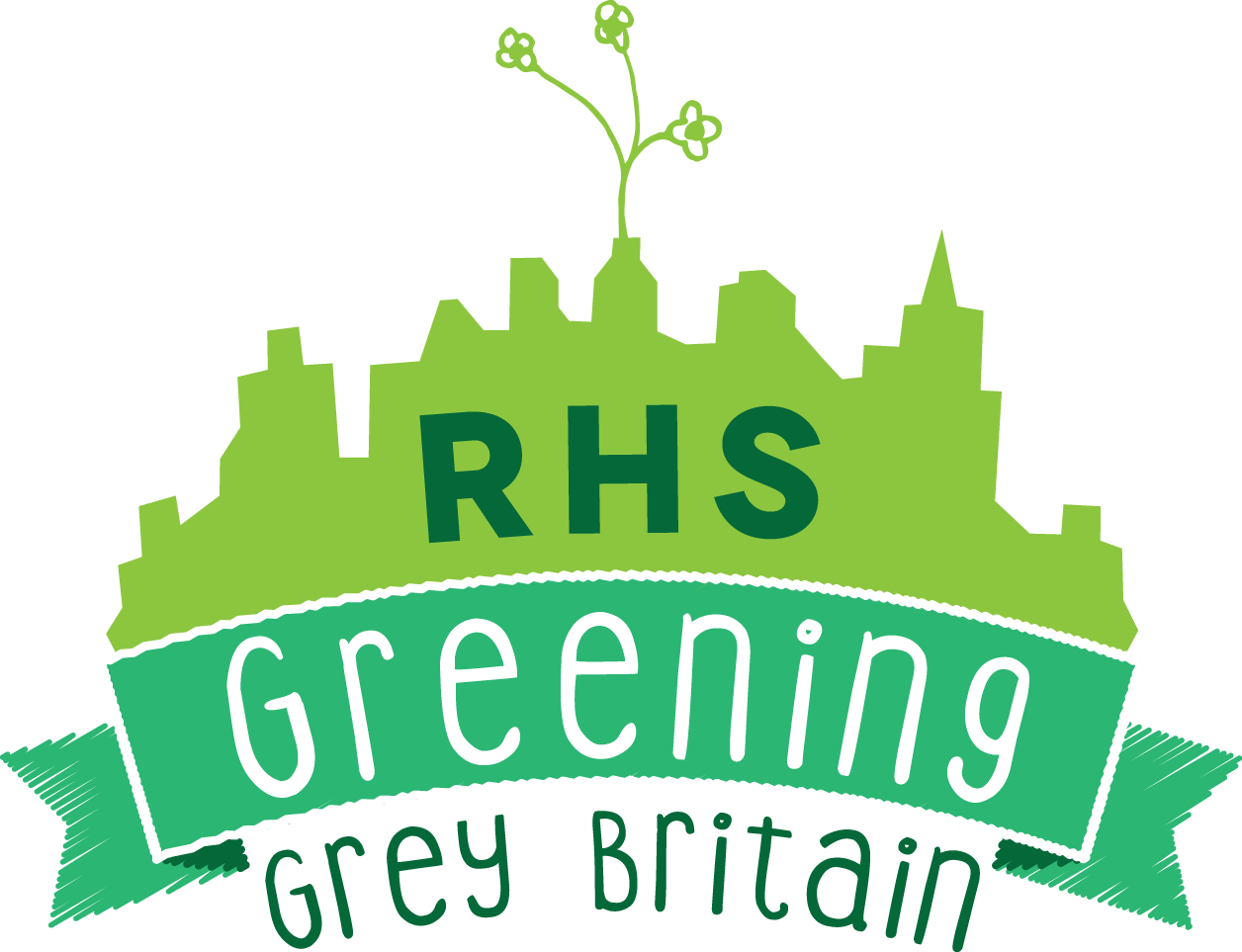 Free Seeds
Greening Grey Britain is an RHS initiative inviting the nation to help tackle the growing trend of Britain paving over its gardens and green spaces and not growing any plants. By clicking on the RHS logo above you can find out how to join the initiative and apply for your free pack of seeds. Happy planting!
Bug Hotel closed due to refurbishment.
Eco Team are planning to upgrade Millfield's Bug Hotel this term as they decided it wasn't a very desirable place for bugs to stay. Team members would like to apologise for any inconvenience caused to any bugs but would like to reassure them that the Bug Hotel will be open again shortly.
Here are the plans for the new Bug Hotel due to be opened in early May. Eco Team members are taking bookings now!

The Bug Hotel is coming along nicely! It won't bee long before the hotel starts 'buzzing'!  Hee hee!
Wow! Look at this...
You'll 'bee' pleased to hear that the Bug Hotel is 'flying' up and it now has six storeys. 'Worm' your way in by booking rooms on the 'web' site for an early Spring getaway. Don't go at 'snail's' pace or be 'sluggish' about booking as there may not 'bee' any vacancies.
Here's the second project. The pond has now been completely drained and we're ready for the switch. Watch this space!
Hooray! The pond has a new liner and is full again. All we need now is some frogspawn.
Breaking news:
Frogspawn is now in the pond and newts have also been spotted.
September jobs:

Here is our Eco Code:
We encourage lots of different animals by making as many habitats as possible

We try to save energy

We try to live healthy lives by walking to school and eating healthily

We save food miles by eating what we grow

We try to reduce what we use and recycle as much as possible

We always put litter in the bin